Gracias a los avances actuales en tecnología de ortodoncia, Dr. Guelff can provide our patients with more options when it comes to wearing braces than ever before. While traditional metal braces are still widely used, clear braces are very popular with teens and adults who are self conscious about wearing braces, a lo largo de con Invisalign® alineadores removibles, el "braceless" alternativa a los dientes rectos. Dr. Guelff will help determine which treatment option is right for you.
Tirantes metálicos
Aparatos metálicos tradicionales son el tipo más común de los apoyos utilizados en la actualidad. They are smaller and more comfortable than ever before and constructed of high-grade space age metal alloys. Con los aparatos metálicos, usted tiene la opción de añadir elásticos de colores (bandas de goma) para una sonrisa más única y colorida.

Los apoyos de cerámica
Frenillos de cerámicas están hechos de materiales claros y por lo tanto son menos visibles en los dientes de tirantes metálicos. Por esta razón, Dr. Guelff uses ceramic braces on virtually all teenage and adult patients who have aesthetic concerns. Mientras que son visualmente menos prominente, they do require more attention to oral hygiene since ceramic braces are larger. El único inconveniente de brackets cerámicos es que son más frágiles y los lazos elásticos pueden decolorar entre las visitas de ortodoncia.

aparatos invisibles
aparatos claras, como Invisalign, utilizar una serie de invisible, desmontable, y cómodos alineadores para enderezar los dientes. No one can tell you are wearing those aligners because they are invisible! Invisalign® aligners are removable so you are not limited in what you can eat and drink during treatment. Más… cepillado y el uso son menos de una molestia. Los alineadores son confortables y no disponen de ningún metal para causar abrasiones de boca durante el tratamiento.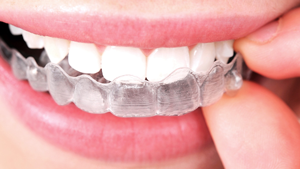 aparatos invisibles (Brackets linguales)
Lingual braces are the invisible alternative for patients who don't want to wear braces or when Invisalign® is not an option. Colocado detrás de los dientes, nadie sabrá que usted está usando los frenos a menos que usted les diga. Estos apoyos únicos son creados usando tecnología de última generación y son 100% adaptada a la forma de sus dientes y la situación dental. Brackets linguales tienen la única prescripción Dr.. Guelff creates for you, incorporado que garantiza los resultados que desea. Con brackets linguales obtiene eficiente, effective tooth movement with great aesthetics.